Ad blocker interference detected!
Wikia is a free-to-use site that makes money from advertising. We have a modified experience for viewers using ad blockers

Wikia is not accessible if you've made further modifications. Remove the custom ad blocker rule(s) and the page will load as expected.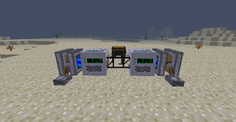 The cobblestone pipe is used for transporting items.
Because of the pipe's high drag, items that have been accelerated by a powered gold pipe lose speed quicker in a cobblestone pipe than they do in a Stone Transport Pipe or a Quartz Transport Pipe. This means it is good to put gold pipes in a chain of cobblestone pipes at regular intervals.
Cobblestone pipes will not connect to stone pipes or quartz pipes. Cobblestone pipes can be waterproofed or made into a Kinesis Pipe to transfer energy.
Ingredients:
2 x Cobblestone
1 x Glass
Produces: 8 x Cobblestone Pipe
See: Crafting Guide
Ingredients:
1 x Cobblestone Pipe
1 x Pipe Waterproof
Produces: 1 x Cobblestone Waterproof Pipe
See: Crafting Guide
Ingredients:
1 x Cobblestone Pipe
1 x Redstone
Produces: 1 x Cobblestone Kinesis Pipe
See: Crafting Guide