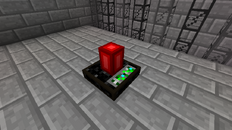 Lasers are required to produce late-game items such as chipsets and gates. They require a considerable amount of power from engines, and need to be partnered with assembly tables or advanced crafting tables to produce items. A stirling engine can power a laser, but one or more combustion engines are recommended (4 MJ/t for full speed). The orientation of the laser has no effect on it.
Once placed, use a stone pick or better to retrieve.
Ingredients:
2 x Obsidian
2 x Diamond
5 x Redstone Dust
Produces: 1 x Laser
See: Crafting Guide
Video Tutorial
Edit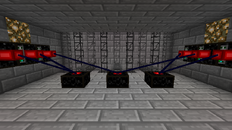 When supplied with power, a laser will automatically work on any assembly table or advanced crafting table within range. For an assembly table to be in range, there can be no more than 4 blocks of space between the laser and the assembly table.
While working, a visible laser will appear from the laser to the assembly table or advanced crafting table it is working on. The colour of the laser indicates the efficiency it is working at. Least efficient is red, followed by yellow, green then blue.
If there are multiple assembly tables or advanced crafting tables in range of a laser, it will alternate between all of them that have an item marked for production.
Ad blocker interference detected!
Wikia is a free-to-use site that makes money from advertising. We have a modified experience for viewers using ad blockers

Wikia is not accessible if you've made further modifications. Remove the custom ad blocker rule(s) and the page will load as expected.